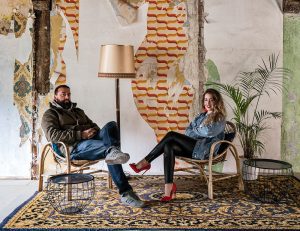 Wood has become the star material in all types of décor projects. Today it's difficult to find an interior designer who doesn't incorporate this material in their main projects.
It's an element that adds warmth to the space, it's organic and very aesthetically pleasing, and above all versatile and easy to combine. Its current prominence is closely related to the boom in Nordic style and the trend favouring all that is natural, renewable.
Wood thus has become the absolute protagonist, both in exterior and interior architecture. It's not just an ornamental element, it's used in furniture and all types of interior and exterior claddings.
The new Wood collection in the Bathco Natural Series was born out of this trend, of this rediscovery of the natural and the organic to accentuate the warmth of the bathroom.
Alejandro Gutiérrez and Luana García of the Aedificare studio are very aware of this trend and tell us about the importance of this material in their projects.
Wood has gone from being an aesthetic and ornamental resource to completely invading spaces. How has this influenced your projects?
Wood is in our DNA, we're experts on the restoration and renovation of old homes, we treat wood with great care, from the structure to the finishing details, so it's always present in our projects in one form or another.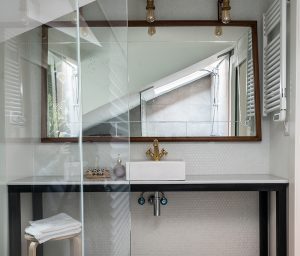 From your experience, what are the main advantages of this material?
Warmth, authenticity and nobility.
It's a very versatile element in interior design. What is its appeal in combination with other materials or aesthetic trends?
It offers perfect balance and equilibrium in compositions with other elements and materials; it's the perfect symbiosis in any style of décor. Its great variety and infinite possibilities allow us to showcase it in any type of project we work on.
What do you think of the trend of using this material in the bathroom?
Precisely in this space, which a priori gives off a feeling of coldness due to the ceramic finishes and predominance of white, wood injects that dose of quality and comfort that, as we said before, balances the space and makes it more agreeable.
The Bathco Wood collection opts for total integration of this material in the bathroom. What can wood washbasins add in an interior design project?
An element as unusual in a washbasin as wood, after the initial surprise, denotes character and personality in the project, making it the focal point and the main element in the space.
In a flat in Santander that you renovated recently, you covered the walls of the terrace with wood. Is this application compatible with a rainy city like ours?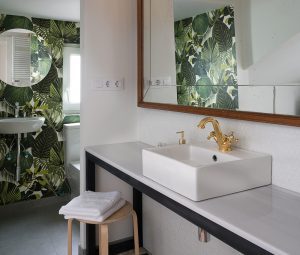 Teak, the same wood used on boats, is the most suitable and the most resistant to weather, that's why we always use it in exteriors.
Photos: David Montero