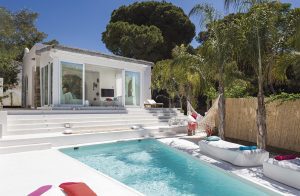 Ana T. Béjar from Etnodesign is an interior designer who projects "each space to recover life, colour, environment … Making each home into something totally unique, personalized and full of details".
This philosophy is what she applied in the Ca'Miami project that consisted in the integral refurbish of a house from the 60s in Marbella. "We bought the house with the goal of rescuing it, respecting the whole structure, improving the distribution, improving the bathrooms, the kitchen and the rest of the rooms. We also added a pergola with heather that gives a tropical atmosphere that combines with the original name of the house "Miami".
To sum up, they tried to look for beauty, always taking into account modernity and comfort of the environment.
In the bathroom they installed the grey Kyoto set, it is a zinc washbasin to be placed on a countertop that comes with a soap dish, glass, paper basket and a valve.
Photos: Carlos Yagüe