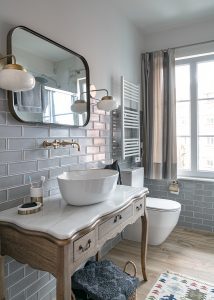 In this project, we find a clear example of the difficulty entailed in an exterior and interior rehabilitation project involving a protected building, as in the case of this country house located in a privileged setting in the city of Santander.
This is an emblematic building that is very characteristic of this seaside town. The owners of the home, lovers of the sea and of the city, wanted to preserve that character whilst taking advantage of the latest trends in interior design and decoration. To do so, they hired the Aedificare studio, and the result could not be more spectacular. They nicknamed the project "Tailwind", and we could not agree more.
In this project, Aedificare repaired the roof, rejuvenated the facade, even reproducing the original hand-painted name of the cottage, reorganised the exterior space, and completely transformed their "favourite part", the interior of the home.
The studio tells us how the owners of the property told them over and over again that they wanted "a seaside cottage that was also sophisticated, timeless and cosy," and that's why they chose elements capable of bringing the feeling of the sea, the sea as it truly is, into the house.
The home consists of three bedrooms, two baths and a common space with the kitchen, dining area and a lounge visually separated by lacquered wood lattice, with dual access to the kitchen and a central island serving as a bar.
For Aedificare, "the materials selected remind us of a ship's interior: walnut, beige and cream-coloured finishes and a wide variety of blues in the upholstery and tiling".
"In the heart of the lounge, the 'Craftsbury' stove by Hergom presides and 'tempers' the space, whilst the natural light and garden views make it so we never want to leave the house".
Alongside the lounge, one of the bedrooms, with a double door and a curved wall, is perfectly integrated in the space.
Then we get to the baths, where Aedificare has done an impeccable job. This is one of the most special rooms in the house, with the most personality, and one that best connects with the sea and everything it represents.
For the studio, the main bath, fit for a ship's captain, the protagonist is clearly the Titanic Second Class washbasin by Bathco, which rests on a classic console with a custom-made Macael marble top.
"Whilst the crew members' bath had to be more fun", and so they chose turquoise ceramic tile with a fish scale pattern that looks spectacular next to the Bathco New Nordic washbasin.