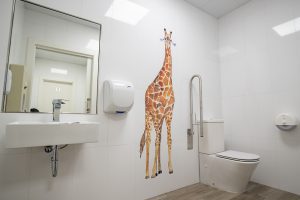 The Cabárceno Natural Park is not a convention zoo or a natural park. It is a space that has been naturalised by humans, based on the primitive beauty of its karst landscape, by reclaiming the 750 hectares of a former open-pit mine.
This is one of the most unique projects that Bathco Atelier has ever worked on. The Cabárceno is an international reference, and the fauna within it was a major source of inspiration for the artists.
The Atelier's work enhances the fascinating experience of visiting the Cabárceno compound by bringing its most representative animals into the restrooms through illustrations on the ceramic surfaces.
The artistic intervention starts with the footprints painted on some of the floor tiles that lead us to the countertop washbasins and the wall tiles. "Wherever we look, our gaze will find lions, bison, antelopes, giraffes and gorillas, among many other animals, that observe us and make us feel that we are in a unique and, above all, living space", say the artists who did the work.
The artists of the Atelier used the different species that inhabit the park as a reference for their work, which uses the latest technologies applied to ceramics as well as traditional painting techniques using vitrifiable pigments. Hand-coloured pencil sketches, design software, Japanese brush strokes, mixtures of oils, powdered pigments and the magic of high-temperature kilns were used to depict the animals that playfully populate the space in different poses, realised with a free-hand drawing and water-colour staining treatment.
The products that were installed at this proyect were: Rectangular Olea washbasin, Urinal Onda and New Ronda sanitary ware. In the adapted bathroom you can find Bruselas washbasin and New Ronda sanitary ware too.