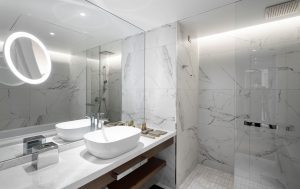 The Greek style is reborn and turns into a trend the elements of the Mediterranean Sea. Speaking about decoration in Greece is talking about White colour which is present almost everywhere. But not all is white, great importance is given to the materials and details in different tones, looking for harmony, simplicity, and uniformity.
To learn more about the trends in Greek interior design we talk to Eirini Makropoulou, director of Philosophy– Bathco's commercial agency in the country.
How do you define the decorative style of Greece?
The big classics of architecture were born in our country and are a part of our everyday life. Those ideas are revisited by contemporary architecture with the addition of elements of industrial design.
What importance is given to materials in the bathroom?
Very big! A lot of consideration goes into the selection of materials that are of high quality, durability and are easy to use. Either for the construction of a home bathroom or a hotel space, thought is given to the selection of products that combine quality and beauty. Materials that, until some years ago were unusual, such as cement and resins, wood or metal, are embraced today.
Which items are best sellers in Greece?
Coloured ceramics have become very popular during the last years. Stone and marble basins are also having a big comeback. Regarding the WC, wall hung models are almost exclusively used now.
Precisely the trend of using materials such as stone or marble is seen in one of the last projects in which Eirini has collaborated. Is about Makedonia Palace Hotel located on Thessaloníki and it is considered as one of the most beautiful and prestigious hotel in Greece.
Porcelana studio, through its special "Porcelana Project" department, undertook the renovation of one of the most emblematic hotels. The luxury hotel, having completed 60 years of operation, has been radically renewing and modernizing its image, choosing quality and aesthetics products.
During the refurbishment, marble acquires great importance, it is present in the bathrooms, in the hall and the lounge of the building. Sanitary ware, tubs, accessories and tiles for indoor and outdoor use, from the most distinguished houses, have been used. Specifically for this project, the team of architects and interior designers chose the Bathco Olea Rectangular washbasin to equip the bedrooms of the hotel".